Product Description
Product Description
Frame scaffolding is also called tubular steel frame scaffolding, door style frame scaffolding, is a long established modular frame scaffolding system serving as working platform for construction and decoration purposes, which is composed of main frames, catwalk or walk board, braces or cross braces, brackets, coupling pins of spigot, guardrails and sometimes casters, etc.
Pic.
Item
A (Width)
B (Height)
Main Frame

Outer tube: 42*2.2mm/2.0mm/1.8mm

Inner tube: 25*1.5mm/1.8mm/2.0mm

1219mm
914mm
1219mm
1219mm
1219mm
1524mm
1219mm
1700mm
1219mm
1930mm
914mm
1219mm
914mm
1524mm
914mm
1700mm
914mm
1930mm
H Frame

Outer tube: 42*2.2mm/2.0mm/1.8mm

Inner tube: 25*1.5mm/1.8mm/2.0mm

1219mm
914mm
1219mm
1219mm
1219mm
1524mm
1219mm
1700mm
1219mm
1930mm
914mm
914mm
914mm
1219mm
914mm
1524mm
914mm
1700mm
914mm
1930mm
Item
A (width)
B (height)
C (length)
 
1829mm
1219mm
2198mm
1219mm
1219mm
1724mm
1829mm
914mm
2045mm
1829mm
610mm
1928mm
1219mm
610mm
1363mm
Item
Size
Joint Pin
36*1.5*225mm
36*1.2*225mm
36*1.0*225mm
Packaging & Shipping
Application
Company Profile
HangZhou CHINAMFG Industry Co., Ltd, with an investment of U.S. Dollars of 8 million, is a professional manufacturer engaged in the design, production & sale of scaffolding systems.
1. Location: HangZhou CHINAMFG is leading scaffolding manufacturer, located in HangZhou, ZheJiang Province, the raw material basement.
2. Team: We have professional team for sale, project design and construction.
3. Main products: Ringlock Scaffolding, Frame Scaffolding, Steel Plank, Catwalk, Ladders, Pipe & Clamp, Steel Prop, etc.
4. Production capacity: 7000-10000 Tons/month.
5. Loading capacity: 8-12 containers/day.
6. Delivery time: 10-15 days for 3-5 containers.
Fast delivery to satisfy your urgent project demand.

FAQ
Q1: Are you a factory or trading company?    
A: We are a factory specializing in manufacturing scaffolding material.
Q2: Where is the loading port?
A: ZheJiang (Xihu (West Lake) Dis.g) Port.
Q3: What's the MOQ of the product?
A: Different item has different MOQ. Normally one Container is preferred.
Q4: What certificates do you have?
A: We have ISO 9001, SGS certification.
Q5: Can I get some samples?    
A: Yes,  but usually the customer will pay for the cost and freight charges. 
Q6: Do you have an OEM service?
A: Yes. We can provide OEM and ODM services as your requirements.
Q7: How long is the production cycle after ordering?
A: General it is about 15-30 days, according to different quantity requirement.
| | |
| --- | --- |
| Material: | Steel |
| Structural Style: | Multi-Pole Scaffolding |
| Framework: | Combined Scaffolding |
| Supporting Mode: | Projecting Scaffolding |
| Lapping Form: | Full Scaffolding |
| Scaffolding Part Type: | Scaffolding Frames |
Customization:

Available

|

Customized Request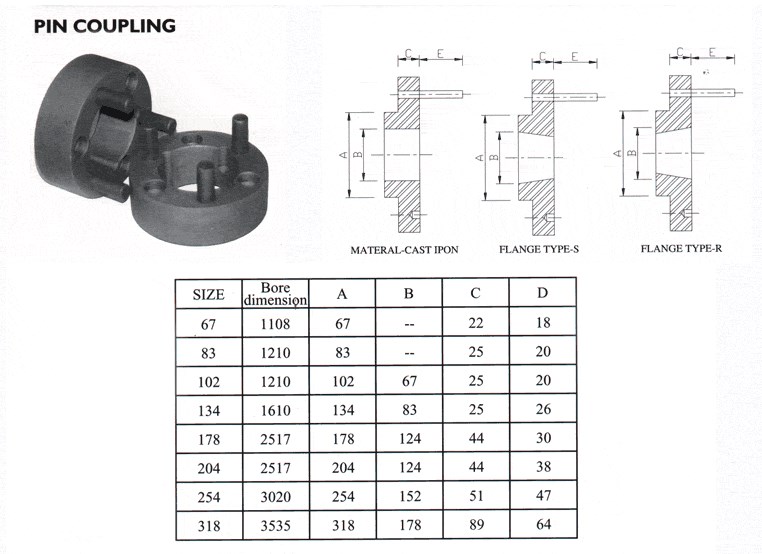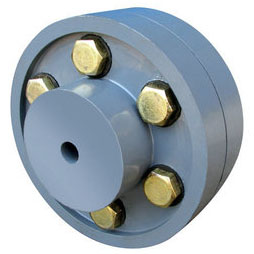 How Do Pin Couplings Compare to Other Types of Couplings in Terms of Performance?
Pin couplings offer certain advantages and disadvantages compared to other types of couplings, and their performance characteristics can vary depending on the specific application requirements. Below is a comparison of pin couplings with some commonly used couplings:
1. Gear Couplings:
Flexibility: Gear couplings are more rigid than pin couplings and may not offer the same level of misalignment capacity.
Torsional Stiffness: Gear couplings provide higher torsional stiffness, making them suitable for applications requiring precise torque transmission.
Shock Absorption: Gear couplings can handle higher shock loads due to their robust design and greater stiffness.
Maintenance: Gear couplings may require periodic lubrication and maintenance compared to maintenance-free pin couplings.
Applications: Gear couplings are commonly used in heavy-duty and high-torque applications where precise torque transmission is essential.
2. Flexible (Elastomeric) Couplings:
Flexibility: Elastomeric couplings offer higher misalignment capacity than pin couplings and can handle angular, parallel, and axial misalignment.
Shock Absorption: Elastomeric couplings provide excellent shock absorption, damping vibrations, and protecting connected equipment.
Torsional Stiffness: Elastomeric couplings have lower torsional stiffness compared to pin couplings, making them more forgiving in high shock load applications.
Installation: Elastomeric couplings are easy to install and require no lubrication, making them maintenance-free.
Applications: Elastomeric couplings are commonly used in pumps, compressors, and other machinery where vibration isolation is crucial.
3. Rigid Couplings:
Torsional Stiffness: Rigid couplings provide high torsional stiffness, ensuring accurate torque transmission.
Misalignment Capacity: Rigid couplings have little to no misalignment capacity and require precise shaft alignment.
Applications: Rigid couplings are used in applications where precise alignment is essential, such as shaft-to-shaft connections in high-precision systems.
Conclusion:
Pin couplings strike a balance between flexibility and torsional stiffness, making them suitable for applications with moderate misalignment and shock loads. They are often used in general industrial applications, conveyors, and light to medium-duty machinery.
When selecting a coupling for a specific application, it is crucial to consider factors such as misalignment requirements, shock and vibration loads, torsional stiffness, maintenance needs, and the level of precision required. Each coupling type has its strengths and weaknesses, and the appropriate choice will depend on the specific demands of the application.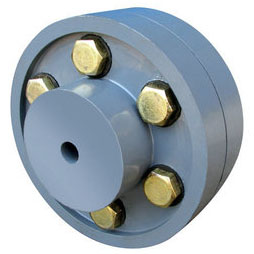 How Does a Pin Coupling Handle Angular, Parallel, and Axial Misalignment?
A pin coupling is designed to handle different types of misalignment, including angular, parallel, and axial misalignment. The unique construction of pin couplings allows them to accommodate these misalignments without compromising the efficiency and performance of the connected equipment.
1. Angular Misalignment: Angular misalignment occurs when the axes of the driving and driven shafts are not parallel but intersect at an angle. Pin couplings can tolerate angular misalignment because of their flexible and floating pin design. The two coupling halves are connected by a series of pins, which can pivot and move within the pin holes. This flexibility allows the coupling to bend slightly, adjusting to the angle of misalignment between the shafts.
2. Parallel Misalignment: Parallel misalignment happens when the axes of the driving and driven shafts are parallel, but they are laterally displaced from each other. Pin couplings can handle parallel misalignment to some extent due to the floating nature of the pins. The pins can move laterally within the pin holes, allowing the coupling to adapt to the offset between the shafts.
3. Axial Misalignment: Axial misalignment occurs when there is a linear displacement along the axis of one shaft concerning the other. While pin couplings primarily focus on handling angular and parallel misalignment, they may offer limited axial misalignment capabilities. The floating pins provide a small degree of axial movement, but excessive axial misalignment is best avoided to prevent additional stresses on the coupling.
It is important to note that while pin couplings can accommodate some degree of misalignment, excessive misalignment should be avoided to prevent premature wear and potential failure of the coupling and connected equipment. Regular inspection and maintenance can help identify and address any misalignment issues, ensuring the optimal performance and longevity of the pin coupling in power transmission applications.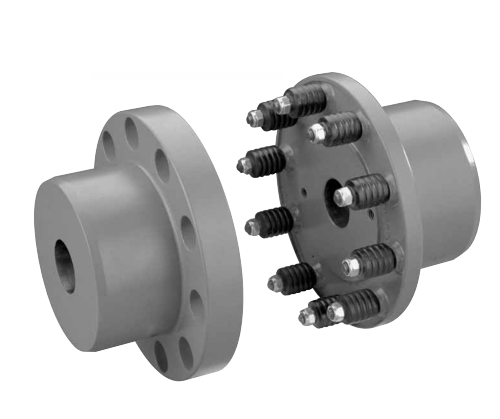 Can Pin Couplings Handle Misalignment Between Shafts?
Yes, pin couplings are designed to accommodate a certain degree of misalignment between shafts in rotating machinery. They are considered flexible couplings, which means they can provide some degree of angular, parallel, and axial misalignment capability.
Pin couplings typically consist of two hubs, each connected to a shaft, and a central sleeve with pins that transmit torque between the hubs. The pins allow for a limited range of movement, which helps to compensate for slight misalignments between the shafts.
The angular misalignment capacity of a pin coupling is achieved through the bending of the pins. When the shafts are misaligned at an angle, the pins on one side of the coupling experience bending while those on the opposite side are in tension. The pins are designed to withstand these bending and tension forces within their elastic limits, ensuring proper functioning and longevity of the coupling.
Similarly, the pins can accommodate parallel misalignment by sliding within the pin holes of the coupling's central sleeve. This sliding action allows the hubs to move slightly relative to each other, compensating for any offset between the shafts.
However, it is essential to note that pin couplings have limitations in terms of the amount of misalignment they can handle. Excessive misalignment beyond their specified limits can lead to increased wear on the pins and other coupling components, reducing the coupling's effectiveness and potentially causing premature failure.
While pin couplings are suitable for applications with moderate misalignment requirements, they may not be the best choice for applications with significant misalignment or where precise alignment is critical. In such cases, more flexible couplings like gear or elastomeric couplings may be more appropriate.
Overall, when considering the use of pin couplings, it is essential to carefully evaluate the specific misalignment requirements of the application and select a coupling that can adequately accommodate those misalignments while ensuring reliable and efficient power transmission.



editor by CX 2023-09-27